01 June 2023 – Here's the single combined GPX course file, which includes the changes to the beginning and end. Please use it with caution, though, as it's not been tested under real-world conditions. Always follow the trail markers and, possibly, that runner in front of you 🙂
*** Please note the start/end re-routes for 2023 ***
The SD 100 course covers 5 major areas: Mt Laguna Recreational Area, Pacific Crest Trail(PCT), Noble Canyon and Indian Creek Trails, Rancho Cuyamaca State Park and Lake Cuyamaca. Course Maps, Elevation Profiles, Aid Station Locations, Detailed Turns, Crew Access, Mandatory Cutoff Times, and Pacer Allowed Legs are located on the Maps / Elevation link to the left. Runners should be totally familiar with those sections that are bi-directional (course travels one direction outbound and then the opposite direction inbound). Pay very close attention to applicable course markings and review the overall course map so as to have the big picture of the course. There have been instances, of course, marking vandalism in past races. As such, we recommend carrying a copy of the course maps and/or detailed route directions for sections that you are unfamiliar with.
The SD 100 Course videos can be watched here. Please also watch the two videos with the revised course for the first four miles and last 1.5 miles (See here).
Download Original Course GPX File
29 May 2023: Revised course for first four miles
29 May 2023: Revised Course for last 1.5 miles
Here's a rough pacing / planning Google spreadsheet. You'll have to copy it to your account before being able to edit it. Please send comments suggestions to pete@peteriley.org to improve it.
*** 29 May 2023: If you would like a combined GPX file for 2023 with the revised course spliced in at the beginning and end, please email pete@peteriley.org ***
View the Hello Drifter animation
30 May 2023 – Please note: CHAMBERS AID STATION HAS A NEW LOCATION – Chambers is officially moved to Stonewall Mine. You can see this location on Google Maps, and it will be at approximately mile 12 after crossing the paved road and the pond re-route. Because we have been asked to keep our impact to a minimum at this popular site, this will be a scaled-down station with fluids and some light snacks, and you must check-in for timing purposes. The exact routing is still to be determined, but it should be, at most, a quarter-mile deviation from the current course. The revised course is as follows (this is an image taken from the Google spreadsheet noted above, which will be updated with any changes).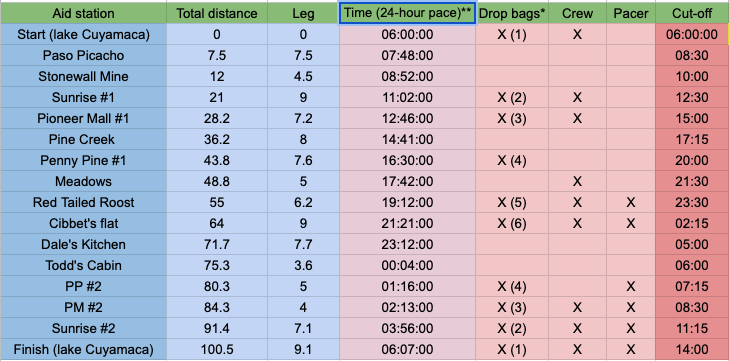 Below is the "official" table of aid stations and cut-offs; however, we are using the modified table above for 2023 because of the recent rains that required course changes.